---
Seminar 7 -S3: First lecture on micropolar chiral elasticity
Speaker: Yi Chen (Karlsruher Institut für Technologie, Germany)
DOI: doi.org/10.52843/meta-mat.hfsklx

Abstract: In this lecture, I will introduce some basics of micropolar continuum elastic theory and its applications to the continuum modeling of chiral elastic metamaterials. Due to mirror symmetry breaking, chiral elastic metamaterials can exhibit interesting properties impossible within achiral ones, such as static push-to-twisting coupling and dynamic chiral phonons or acoustical activity. With the examples, one can see micropolar continuum theory can correctly describe the above behavior as well as related size effects. In traditional chiral metamaterials, mostly with cubic symmetry, chiral phonons and acoustical activity are allowed only along several phonon propagation directions. Chiral elastic metamaterials that support isotropic chiral phonons are preferred in practical applications. Here, chiral elastic metamaterials with isotropic properties are designed based on quasicrystalline lattice and periodic cubic lattice. Both designs are verified numerically by phonon band structure calculations.
1. Y. Chen et al. (2020) Mapping acoustical activity in 3D chiral mechanical metamaterials onto micropolar continuum elasticity. Journal of the Mechanics and Physics of Solids, 137
2. Y. Chen et al. (2020) Isotropic Chiral Acoustic Phonons in 3D Quasicrystalline Metamaterials. Physical Review Letters, 124(23)
3. Y. Chen et al. (2021) Cubic metamaterial crystal supporting broadband isotropic chiral phonons. Physical Review Materials, 5(2)
4. Y. Chen et al. (2021) Chiral triclinic metamaterial crystals supporting isotropic acoustical activity and isotropic chiral phonons. Proceedings of the Royal Society A: Mathematical, Physical and Engineering Sciences, 477(2246)
Biography: Yi Chen received his B.S. and Ph.D. degrees in Solid Mechanics from Beijing Institute of Technology in 2012 and 2018, respectively. He then worked as a Postdoctoral Fellow in Beijing Institute of Technology. Since September 2019, he joined in Prof. Martin Wegener's group at Institute of Applied Physics, Karlsruhe Institute of Technology (KIT), Germany, as a Humboldt Postdoctoral Researcher.
His current research includes acoustic/elastic metamaterials, topological materials, micropolar elasticity theory, metamaterials with nonlocal interactions. He has over 20 papers published in mechanics/physics/material journals, including Nature Communications, Science Advances, Physical Review Letters, Journal of The Mechanics and Physics of Solids, etc.
---
Seminar 6 -3: Bending waves in quasiperiodic beams and plates
Speaker: Bart Van Damme (Empa – Materials Science and Technology, Swiss)
Q & A:
DOI: doi.org/10.52843/meta-mat.l6g1mj
Abstract: Flexural waves in slender structures, beams or plates, take an important place in engineering applications since they are easily excited and play a dominant role for noise generation. The reduction of flexural motion is an old problem, be it for building materials, automotive applications, or precision instruments. The vast majority of metamaterial studies in the vibroacoustic domain is aiming at vibration reduction of one- and two-dimensional structures. Their models are very often based on the periodicity assumption, giving physical insights with minimal calculation power. However, nature shows us that materials without translational symmetry in their structure can give rise to exotic wave scattering behaviour, very similar to Bragg scattering but with different rotational symmetries leading to 5- and 10-fold diffraction patterns. At the same time, Penrose showed mathematically that planes can be filled with combinations of a limited number of polyhedra in a fully aperiodic way. Despite the absence of any translational periodicity, these structures are uniquely defined and have recognizable local rotational symmetries. They are therefore called quasicrystals. We present two examples of bending waves in quasicrystalline structures, both numerical and experimental. The first case shows unexpected low-frequency band gaps in beams with two periodic arrays of slits. The scattering of bending waves due to the aperiodic changes in bending stiffness results in interaction between the two periodic Bragg band gaps. The second example shows the formation of band gaps and localized modes in a quasicrystal plate dressed with scatterers in a Penrose pattern. Band gaps occur at lower frequencies than in a periodic array of scatterers with the same density, but is therefore less efficient. In both cases the structures showcase areas with low and high vibrational amplitudes, a fact that might be exploited to lead high energy concentrations away from critical points.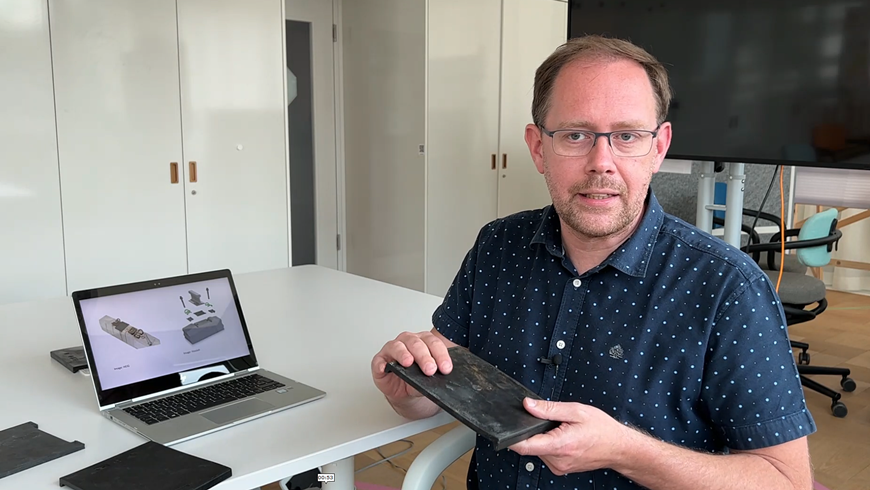 Biography: Bart has a masters degree in physical engineering. He got his PhD in physics in 2011, investigating nonlinear elastic waves for nondestructive testing. He is currently a member of the Laboratory for Acoustics/Noise Control at Empa, the Swiss Federal Laboratories for Materials Science and Technology. He investigates dynamic properties and elastic wave propagation in complex materials and structures. Examples are engineered wood materials for musical instruments or lightweight construction, new materials to abate railway noise, or the design and practical implementation of metamaterials with optimized isolating and absorbing properties. He teaches Engineering Acoustics at ETH Zurich and is currently co-supervising several master and PhD students.
---
Seminar 5 -S3: Willis couplings in one-dimensional and quasi-one-dimensional acoustic systems
Speaker: Jean-Philippe Groby (CNRS, LAUM – Laboratoire d'Acoustique de l'Université du Mans, France)
Q & A:
DOI: doi.org/10.52843/meta-mat.0nm96c
Abstract: Since the seminal work of Willis in the 80's, the eponymous materials have received an increasing attention, because of their analogy with bi-isotropic/anisotropic electromagnetic metamaterials. The Willis coupling parameters couple the potential and kinetic energy in the acoustic conservation relations, therefore enhancing the ability to control waves in metamaterials compared to other materials that do not exhibit such coupling. In this talk, I will present a general method to derive the closed form expressions of the effective properties, including the Willis coupling, of asymmetric and nonreciprocal one dimensional acoustic systems. This method relies on the Pade's approximation of the matrix exponential, the latter being nothing but the transfer matrix that may relate the state vectors at both sides of a unit cell. The effective properties of various one-dimensional asymmetric resonant systems are first derived, numerically and experimentally validated, and analyzed. The nonlocal feature of the Willis coupling is then investigated in a simple fluid laminate system. The asymmetric and nonreciprocal Willis couplings are finally analytically derived and discussed in a system constituted of a periodic arrangement of thermoacoustic amplifiers.
Biography: tba
---
Seminar 4 -S3: Latent symmetries: An introduction
Speaker: Malte Röntgen (Universität Hamburg, Germany)
Q & A:
DOI: doi.org/10.52843/meta-mat.7d7p2h
Abstract: In this talk, I will give an introduction to the emerging topic of latent symmetries. A latent symmetry is in general not apparent from a geometric inspection of the system. Instead, it becomes visible after a suitable dimensional reduction: The so-called isospectral reduction, which is akin to an effective Hamiltonian. As I will show in this talk, latent symmetries can lead to very interesting phenomena, including the induction of local symmetries on the system's eigenstates or even degeneracies in the eigenvalue spectrum. Their study thus allows to gain knowledge about the system's structure that remains hidden from a direct observation. The concept is exemplified through several wave-physical examples.
M. Röntgen et al. (2021) Latent Symmetry Induced Degeneracies. Physical Review Letters, 126(18)
M. Röntgen et al. (2022) Hidden symmetries in acoustic wave systems. arXiv
C. Morfonios et al. (2021) Cospectrality preserving graph modifications and eigenvector properties via walk equivalence of vertices. Linear Algebra and its Applications, 624
C. Morfonios et al. (2021) Flat bands by latent symmetry. Physical Review B, 104(3)
M. Röntgen et al. (2021) On symmetries of a matrix and its isospectral reduction. arXiv
Biography: Malte Röntgen studied Physics in Kiel and Hamburg. He did his PhD at the Centre for Optical Quantum Technologies in Hamburg, where he currently works as a Post-Doc.
---
Seminar 3 -S3: Time-modulated composites: some recent results on field-pattern materials
Speaker: Ornella Mattei (Department of Mathematics, San Francisco State University, USA)
Q & A:
DOI: doi.org/10.52843/meta-mat.2kkqgf
Abstract: Field patterns are a new type of wave propagating in one-dimensional linear media with moduli that vary both in space and time [1, 2, 3]. Specifically, the geometry of these space-time materials is commensurate with the slope of the characteristic lines so that a disturbance does not generate a complicate cascade of subsequent disturbances, but rather concentrates on a periodic space-time pattern, that we call field pattern. Field patterns present spectacularly novel features. One of the most interesting ones is the appearance of a wave generated from an instantaneous source, whose amplitude, unlike a conventional wake, does not tend to zero away from the wave front. Furthermore, when the parameters of the material are suitably chosen, so that the condition of PT-symmetry is unbroken, the wavefront propagates maintaining the same amplitude. This is particularly remarkable if one observes that, due to the instantaneous time modulation, energy is not conserved but it increases exponentially in time.
In this talk, we will explain how stable modes that do not blow up in time, even though the associated energy does, can be generated by suitably designing the spatial geometry of the composite, which must be related to the periodicity of the time modulation as well as the material properties. We will start from the classical results for the one-dimensional case, obtained in [1, 2, 3] in collaboration with Graeme W. Milton. Then, we will extend such design concepts to the two dimensional case and show the most recent results obtained in collaboration with Vincenzo Gulizzi.
1. O. Mattei and G. Milton (2017) Field patterns: A new type of wave with infinitely degenerate band structure. EPL (Europhysics Letters), 120(5)
2. O. Mattei and G. Milton (2017) Field patterns without blow up. New Journal of Physics, 19(9)
3. G. Milton and O. Mattei (2017) Field patterns: a new mathematical object. Proceedings of the Royal Society A: Mathematical, Physical and Engineering Sciences, 473(2198)
4.
O. Mattei, V. Gulizzi. On the effects of suitably designed space microstructures in the propagation of waves in time modulated composites, In preparation.
Biography: Ornella Mattei has been an Assistant Professor in the Department of Mathematics at San Francisco State University since 2019. She received her PhD in Methods and Mathematical Models for Engineering from the University of Brescia, Italy, in 2016, under the guidance of Angelo Carini (University of Brescia) and Graeme W. Milton (University of Utah). Before moving to San Francisco, she was a Postdoctoral Researcher in the Department of Mathematics at the University of Utah. She has broad interests in the Mathematics of Materials Science, with special emphasis on composites and electromagnetics.
---
Seminar 2 -S3: Metamaterials for Medical Ultrasound
Speaker: Chengzhi Shi (GWW School of Mechanical Engineering, Georgia Institute of Technology, Atlanta)
Q & A:
DOI: doi.org/10.52843/meta-mat.j4kmwf
Abstract: The development of acoustic metamaterials and the resulted manipulation of ultrasound wave propagation have led to many important technologies that can potentially be applied in medical diagnostics and therapy such as transcranial ultrasound, enhanced cavitation effect for histotripsy and thrombolysis, and noninvasive kidney stone management. In this talk, we will focus on two metamaterial applications in medical imaging and therapy: transcranial imaging enabled by non-Hermitian complementary acoustic metamaterial (NHCMM) and fast sonothrombolysis through vortex ultrasound induced shear stress. High-resolution transcranial imaging using noninvasive high-frequency ultrasound is challenging due to the impedance mismatch between skull and soft tissues and the intrinsic loss because of the porous skull. The development of active NHCMM can compensate the transmission loss resulting from both effects simultaneously that enhances transcranial transmission for high-resolution imaging. For the treatment of blood clots, sonothrombolysis has been demonstrated to be effective. However, the treatment usually last for more than 15 hours when treating large clot, which is undesirable for the patient and surgeon and can sometimes before life threatening for severe cases of cerebral venous sinus thrombosis (CVST). The active metasurface generated vortex ultrasound induces contactless shear stress in the blood clot that drastically enhances fibrinolysis in blood clots that remarkably reduce the required treatment time with low risk of hemorrhage, especially in treating large, completely occluded, acute clots. Such capability makes the vortex ultrasound based endovascular sonothrombolysis a life-saving tool for severe cerebral venous sinus thrombosis, which has an increasing trend among young patients due to the COVID-19 pandemic.
Biography: Dr. Chengzhi Shi is an Assistant Professor in the George W. Woodruff School of Mechanical Engineering at Georgia Institute of Technology. He is also a program faculty of Bioengineering, Parker H. Petit Institute for Bionengineering and Bioscience, and Wallace H. Coulter Department of Biomedical Engineering at Georgia Tech. Before joining Georgia Tech, Dr. Shi earned his Ph.D. degree from the University of California, Berkeley in 2018 and his M.S. and B.S. degrees from Shanghai Jiao Tong University in 2013 and 2010. His research interests include physical acoustics, wave propagation, metamaterials, ultrasound imaging, and therapeutic ultrasound. He has published many highly cited papers in prestigious journals including Science, PNAS, and Nature Communications. Dr. Shi has won prestigious awards including NSF CAREER and ONR YIP awards.
---
Seminar 1 -S3: Beyond the limitations of passive acoustic metamaterials using dispersion engineering and complex frequency excitations
Speaker: Andrea Alù (City University of New York)
Q & A:
DOI: doi.org/10.52843/meta-mat.v4g57h
Abstract: In this talk, we discuss our latest results on acoustic metamaterials, in which we theoretically introduce and experimentally demonstrate complex dispersion engineering of acoustic waves on elastic metamaterials, and excitation at complex frequencies to realize virtual absorption and virtual gain. Our results open new avenues for sound manipulation using metamaterials, going beyond conventional limits. We will discuss the basic principles behind the described phenomena and the implications for technologies.
Biography: Andrea Alù is a Distinguished Professor at the City University of New York (CUNY), the Einstein Professor of Physics at the CUNY Graduate Center, and the Founding Director of the Photonics Initiative at the CUNY Advanced Science Research Center. He received his Laurea (2001) and PhD (2007) from the University of Roma Tre, Italy, and, after a postdoc at the University of Pennsylvania, he joined the faculty of the University of Texas at Austin in 2009, where he was the Temple Foundation Endowed Professor until Jan. 2018. Dr. Alù is a Fellow of NAI, AAAS, IEEE, MRS, OSA, SPIE and APS, and has received several scientific awards, including the Blavatnik National Award in Physics and Engineering, Dan Maydan Prize in Nanoscience, the IEEE Kiyo Tomiyasu Award, the Vannevar Bush Faculty Fellowship from DoD, the ICO Prize in Optics, the NSF Alan T. Waterman award, the OSA Adolph Lomb Medal, and the URSI Issac Koga Gold Medal.
---
---